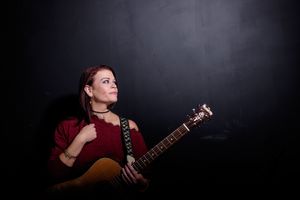 Kelly Jean's music carries an undercurrent of raw emotion, interlaced with introspective narratives that evoke deep connections. Her journey has transitioned from a six-year-old exploring the mysteries of melody, to a unique voice within today's music sphere, reflecting a relentless passion and dedication.
At six, she crafted her first song, kindling a lifelong love affair with music. Her artistry, initially a childhood method to comprehend the world, has blossomed into a body of work recognized for its sincere echo and broad resonance. Each song is a facet of her life experience, amplified by her drive to create music that deeply connects with her audience.
A self-taught guitarist from the age of 18, she found her rhythm resonating within acoustic chords. This shift from piano to guitar strings left an indelible imprint on her music. Taking cues from the raw honesty of 90s rock and artists such as Alanis Morissette and The Cranberries, she forged a unique sound - emotional, expressive, and hauntingly beautiful. Her forthcoming EP, "Good at Goodbyes," mirrors this style, transporting listeners on a sonic journey that pays tribute to 90s rock, with her contemporary, personal touch.

"Good at Goodbyes" has been a creative partnership with Mike Davidson of Plaid Dog Recording. Together, they crowdfunded $10k, laying the foundation for a relationship that has enriched her original sound, augmented by Davidson's diverse musical understanding and the contributions of a dedicated studio team. 

Kelly Jean's music extends beyond solo work. She collaborates with her band, 'Kelly Jean: Party of 4', consisting of Daryel Gheni Dillon on bass, Sojourner Zink on drums, Jesse Potter as lead guitarist, and Leila Mo providing occasional piano. Together, they create a harmonious sound that reflects their shared passion and authenticity. Their collective talent has illuminated the Sacramento music scene, opening for notable artists like Trish Toledo and Emily Wolfe.
A key contributor to her music community, Kelly Jean performs and works for Sofar Sounds, an entity focused on intimate musical experiences. This platform has connected her with diverse musicians and audiences, fostering an enriching exchange of ideas and experiences.
For Kelly Jean, music is a vocation. Her journey, enriched by impactful collaborations, standout performances, and continuous growth, showcases her resilience and determination. Infused with innate curiosity and a relentless desire for discovery, she stands as a wellspring of creative energy.
While her journey is marked with milestones, she is just getting started. The imminent release of her EP, the planning of a Pacific Coast tour, and the creation of new songs with her band symbolize a promise for more. Her music, a testament to the human spirit's capacity to find beauty and meaning, sets her apart in a world quick to pigeonhole individuals.
Kelly Jean, a musical sojourner, is more than a musician. With a song in her heart and a desire to share it, her passion radiates every stage she graces, creating a sonic legacy that resonates with all who listen.
"

Passionately performed and wonderfully written, Kelly Jean's superbly crafted indie-alternative rock track "to: all my bad Tinder dates" manages to effortlessly evoke the sounds of the strong female-led alternative rock output of the 90s whilst being able to masterfully embed a contemporary feel into its compelling songwriting, helping to create a piece of music that is steeped in authenticity throughout. Music as compellingly poignant as this needs that certain special vocal presence at its forefront in order to really capture the intricacies of the writing, and oh my does Kelly Jean have that certain 'Je ne sais quoi'. Each and every word is given such depth and emotional complexity that as a listener you simply can't help but hang on to each and every phrase that Kelly Jean so gracefully conveys. This is heightened further by her strikingly candid approach to her lyric writing, there's a sincere honesty woven throughout her lyrics that helps to paint a particularly touching and grounded picture that listeners will find so easy to relate to. " - Andre Avanessian